Local energy systems - important puzzle piece in the energy conversion
Kårhuset, Chalmersplatsen 1, Göteborg
Thursday 03 Oct 2019
12:00 - 19:00
A digital marketplace that uniquely links the three energy carriers to electricity, heat and cooling is underway at Chalmers in Gothenburg. During 2017–2019, the Chalmers area is the test bed itself. Now we summarize our lessons. Partly about building and operating the system, but also our five policy recommendations for a faster energy conversion. You meet partners, experts and decision makers.
Local energy systems - important puzzle piece in the energy conversion
The Fed is an innovative initiative by the City of Gothenburg to reduce energy use and dependence on fossil fuels in real estate. Johanneberg Science Park has the coordinating role on behalf of the City of Gothenburg. The activities are funded through the EU project Fossil-free Energy Districts, FED.
Time: 12: 00-17: 00 with the following mingle
Magnús Sigfússon, director of urban development at the City of Gothenburg, welcomes!
Moderator: Anders Ådahl, Energy Chalmers
Program:
Lunch

Speaker Olga Kordas, program manager Viable Cities, researcher at KTH

What is FED? - How does the FED system work, what is unique, what are the lessons and challenges?

Policies - What policies does the Fed recommend? Why?

Panel discussion - What change do we need?

Future - What is the next step? How does the Fed live on?

Summation

Mingle
The Fed is co-financed by the European Regional Development Fund through the Urban Innovative Actions initiative, the European Commission's initiative to let cities test new solutions to their challenges.
#fedgbg # 1stUIAcities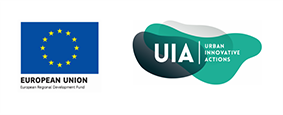 Participating partners:
Akademiska Hus, Business Region Göteborg, Chalmers, Chalmersfastigheter, Ericsson, Göteborgs Stad, Göteborg Energi, Johanneberg Science Park & RISE Research Institutes of Sweden
Info and registration
Thursday 03 Oct - Thursday 03 Oct
12:00 - 19:00
Kårhuset, Chalmersplatsen 1, Göteborg